Welcome to the world of Bagel & Lox boards, where culinary delight meets artistic presentation. Let's explore the various components and flavors' that make this dish a gourmet sensation. Prepare to be tantalized by a blast of flavors' and sensations that will leave you wanting more.
A brunch board with bagels and lox is a great way to commence the weekend. Bagels & Lox  is a breakfast or lunch meal that's loaded with all the delightful items! The choices are unlimited with different types of cream cheese and a variety of flavors! It's a great meal or appetizer for daytime parties, Yom Kippur breakfast, birthdays, or whether you're organizing Sunday brunch, as it's loaded with vegetables, cold-smoked salmon, cream cheese, and soft bagels. The greatest part about this dish is that there are no hard and fast restrictions, and it can be created for any size gathering.
On our Bagel & Lox board, we usually include the following elements. The most essential feature of the board is the Lox and bagels. Sesame seed and plain bagels are popular choices. Everything bagels are also fantastic. We offer a wide variety of cream cheese flavors including plain cream cheese, scallion cream cheese, veggie cream cheese, salmon cream cheese being the most popular choices. Lox, capers, and a vegetable are excellent. Lemons- sliced or wedged, Sliced cucumbers, red onion, sliced tomatoes, and sliced radishes, Fresh herbs, particularly dill, but also fresh basil and thyme, are preferred.
This variation provides a wide range of options for topping your bagel. On our bagel and lox board, there's something for everyone's tastes.
These bagels and lox boards are also perfect for any special occasion or a formal lunch with the family. It's best to eat the fresh flavors initially in the morning or mid-afternoon. It's a unique gift idea for baby showers, wedding showers, birthday parties, family get-togethers, Mother's Day, Christmas Day, or Easter.
Bagel & Lox Board: A Gourmet Delight
When it comes to a Bagel & Lox board, it's all about the perfect combination of ingredients. Imagine a platter adorned with freshly baked bagels, velvety cream cheese, thinly sliced lox, and an array of tantalizing toppings. The key to a remarkable board lies in the careful selection of high-quality ingredients, ensuring a symphony of flavours that dance on your palate.
Gluten-Free Bagels: Catering to All Dietary Needs
With the increased demand for gluten-free food, meeting the needs of every diner is crucial. Fortunately, the Bagel & Lox board has recognised this trend and now offers gluten-free bagels. These fluffy, chewy delights provide a delicious alternative for those with dietary restrictions, ensuring that no one has to miss out on this culinary experience.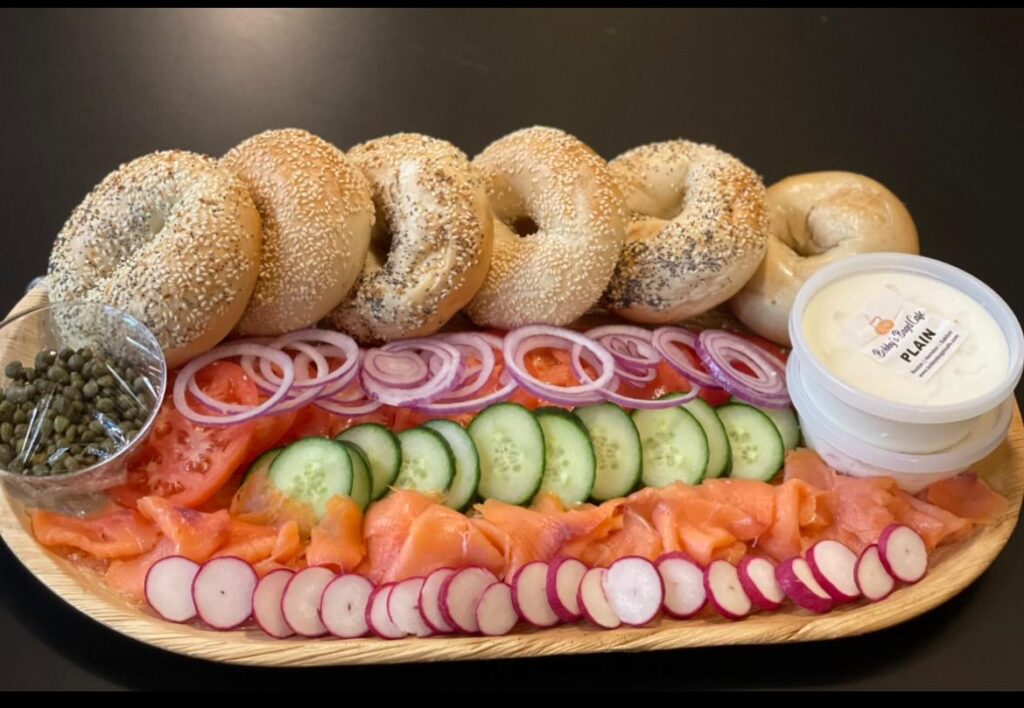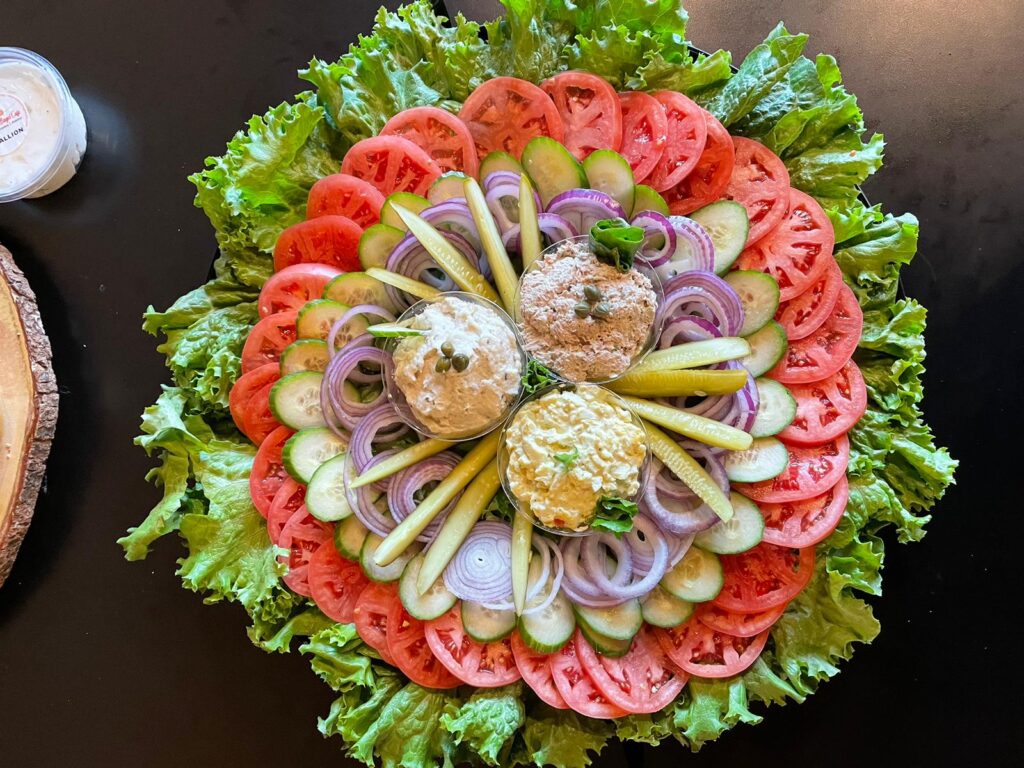 House Platter Salad: A Fresh Accompaniment
No Bagel & Lox board is complete without a refreshing side of house platter salad. Picture a medley of crisp, seasonal vegetables, tossed in a variety of dressings that range from tangy vinaigrettes to creamy herb-infused concoctions. This vibrant and invigorating salad complements the richness of the bagels and lox, creating a harmonious balance on the palate.
Chicken Salad: A Savory Addition
For those seeking an extra savory touch, the Bagel & Lox board welcomes the inclusion of chicken salad. This addition adds a pleasant touch to the overall flavour profile with its soft bits of seasoned chicken blended with creamy mayonnaise and a combination of herbs and spices. The mix of the savoury tones in the chicken salad with the smoothness of the bagel and lox produces a wonderful symphony of flavours.
Tuna Salad: A Seafood Sensation
When it comes to seafood lovers, the Bagel & Lox board offers a treat with the addition of tuna salad. Consider flakes of delectable tuna combined with spicy mayonnaise and a tangy hint of lemon juice. This seafood delight offers a surge of umami as well as a refreshing element to the board, making it a favourite among those looking for a taste of the sea.
White Fish Salad: A Delicate Delight
For the connoisseurs of gourmet delicacies, the Bagel & Lox board introduces the white fish salad. Delicately prepared using smoked white fish, cream cheese, and a hint of lemon, this option offers a refined and elegant flavor profile. The creamy texture and subtle nuances of the white fish salad elevate the board to new heights of culinary sophistication.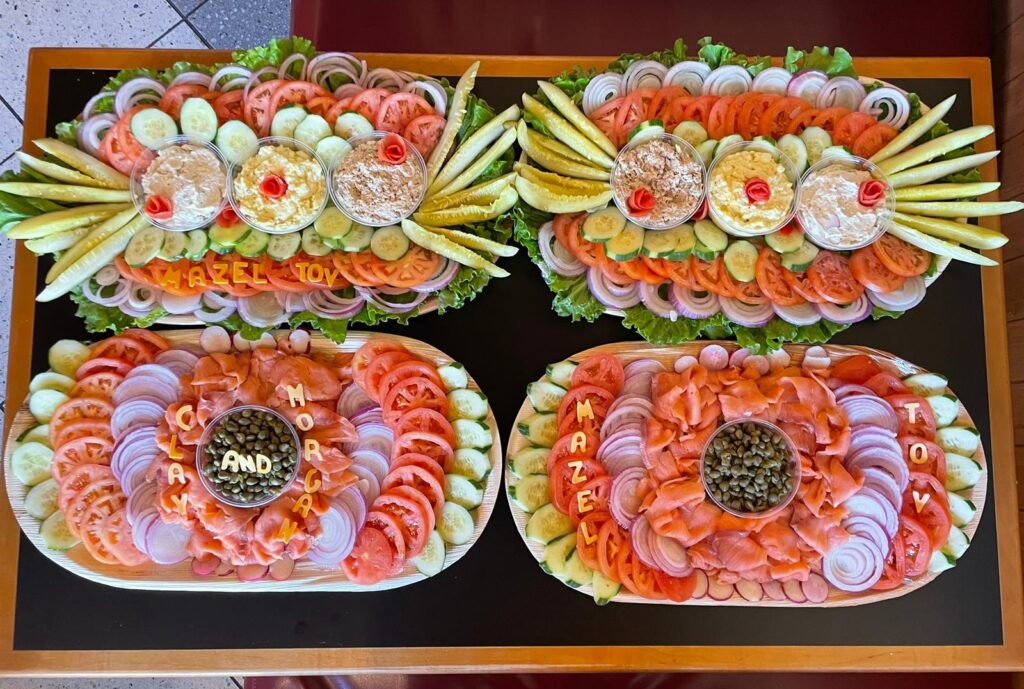 The Bagel & Lox board offers a symphony of flavors and textures that cater to a wide range of preferences. From gluten-free options to vegan alternatives, and from savory additions to delicate delights, this culinary masterpiece has something for everyone. So why not indulge in this versatile and delectable dish? Dive into the