A Special Lunch in Reston, VA
It's the meal that offers you the stamina and sustenance you need after a day of activity. You're looking for a delicious meal that includes top-quality food items, which Bobby's Bagel café can offer. We provide the best lunch deals at our store.
We're offering a lot more than just delivering the bagels
We're here to offer you an array of lunch options on the menu at Reston, VA. Cream cheese of the highest quality will be served at lunch. You can also enjoy personalized bagels, which are the most popular food item globally.
Freshly made New York bagels are available.
If you want to have an amazing lunch, hand-rolled gluten-free bagels are the best selection. Lunch options like smoothies, pastries, Cinnamon Rolls, paninis steak, avocado, and cheese, as well as Nitro-coffee, are amongst the most delicious options available. There's no other choice. You can choose between picking your favorite food and enjoying the splendor of your meal.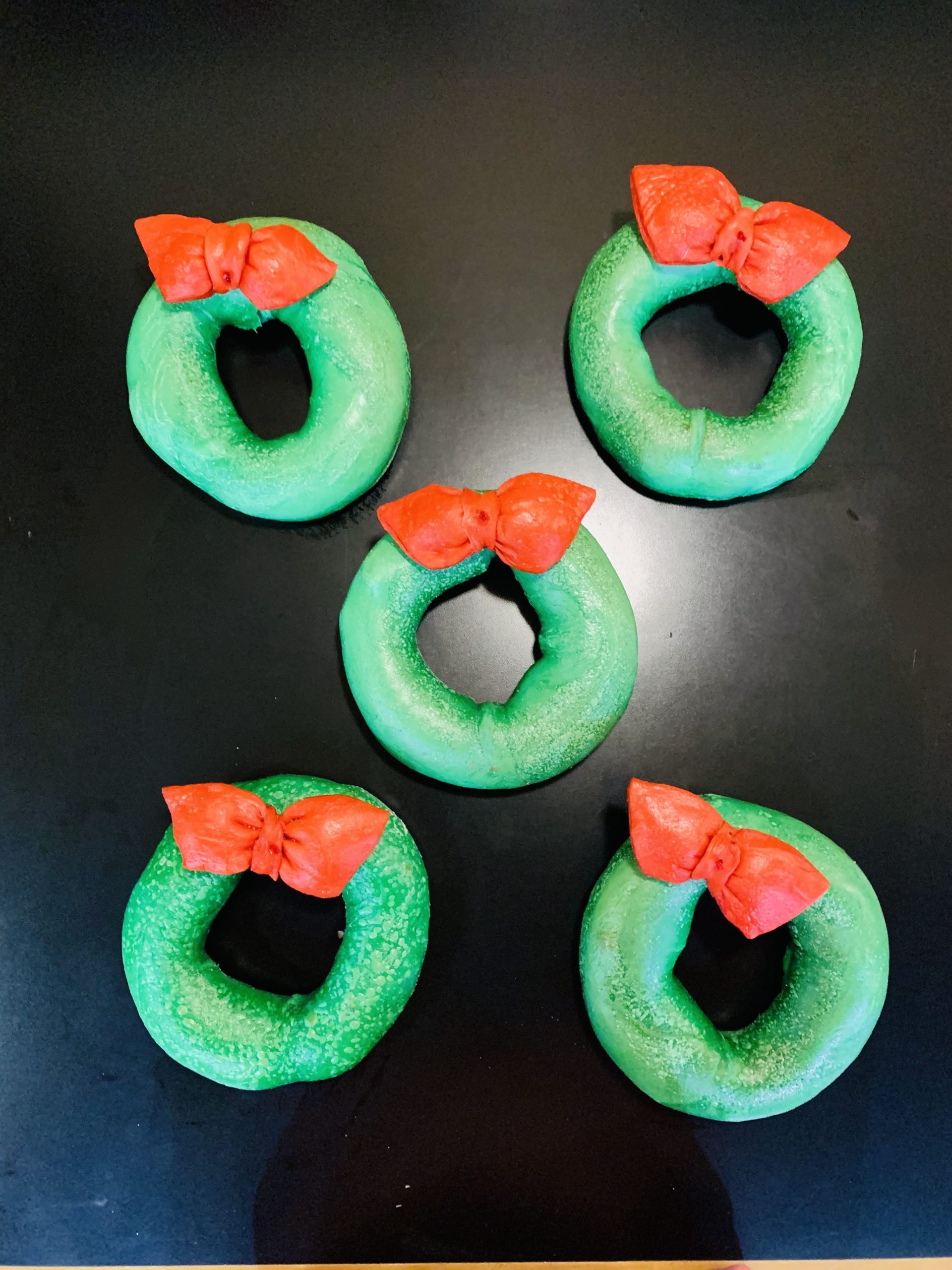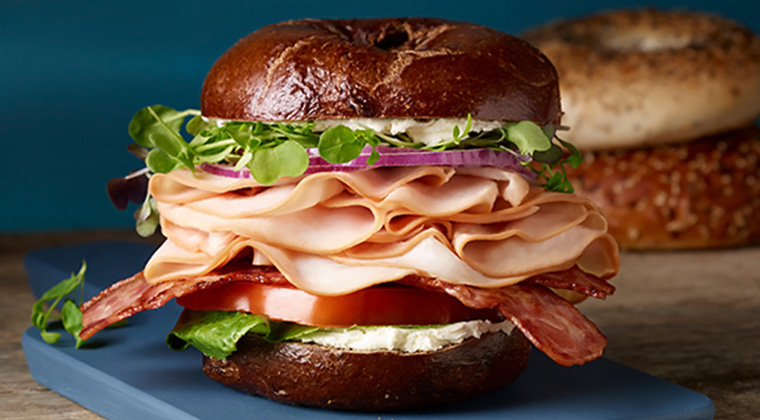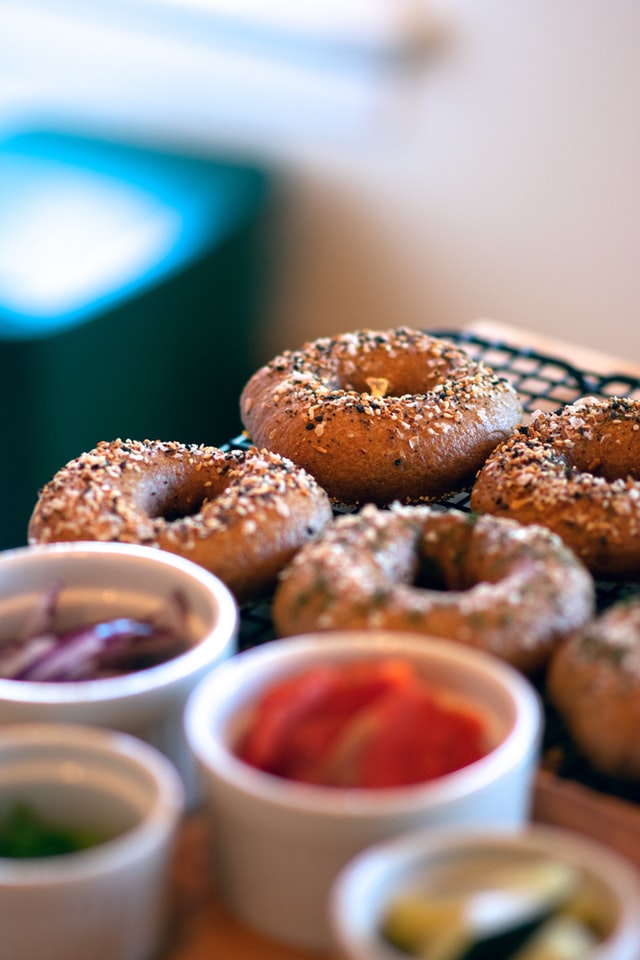 Find the finest food & Lunch in Reston in our Cafe.
The name we have earned is the personalized attention we give to each of our customers. Our specialty is bagels, and we pay a lot of attention to ensuring that we receive the best compliments from our customers. Whatever the occasion, we can provide the most delicious bagels available to serve at breakfast, lunch in Reston, or special occasions, all at affordable costs.
To create delicious bagels, we supply you with the finest ingredients, such as yeast, meat, oil, eggs, milk, and meat. And we'll continue to give you the best service possible. Alongside bagels, we offer several other options to pick from in our takeaway coffee, which is preferred for those who need something quick for their lunch breaks.
The Best Lunch in Reston with Large Perfect Variety
If it's ordering online or a visit to our cafe to enjoy a hearty meal, we'll be able to meet your needs with our wide selection of menu items. In addition to your cheesecake, cupcakes, and teacups, we have an array of other food items to satisfy your cravings during lunch, such as breakable hearts, hot chocolate bombs, Christmas bagels, or Valentine's Day Bagels that will satisfy your craving for sweets.
We warmly invite you to sit back in the cozy atmosphere in our café and enjoy a meal with your loved ones and family. We strive to provide them with the highest quality food that is possible, be it sandwiches and cinnamon buns, steaks, or even smoothies, the way you'd like it. You'll be pleased to know that the top chef made our items and packed them safely.
Exploring the Ultimate Lunch Experience at Bobby's Bagel Cafe in Reston
Let's checkthe culinary delights for Lunch at Bobby's Bagel Cafe in the heart of Reston. This gem of a spot promises an unforgettable lunch experience that caters to all taste buds, from the adventurous to the health-conscious. So, buckle up as we embark on a gastronomic journey like no other!
The Unique Lunch Menu in Reston:
A. Personalized Bagels: Craft Your Dream Creation
Ready to unleash your inner bagel artist? Bobby's Bagel Cafe lets you customize your very own bagel masterpiece. The options are endless for flavours, spreads, and garnishes! There is a customised bagel waiting for you, whether you're a fan of veggies or cream cheese.
B. Rainbow Bagels: A Visual Treat for the Taste Buds
Prepare to be dazzled by the vibrant array of Rainbow Bagels. These gorgeous objects are as appetising to look at as they are to eat! You'll taste a blast of flavours with each bite that will take you to bagel heaven.
C. Alpha Bagels: A Power-Packed Lunch Option
Craving a hearty and satisfying lunch? Look no further than the Alpha Bagels at Bobby's! Stuffed with premium meats, veggies, and zesty sauces, these bagels will fuel your day and keep your taste buds cheering for more.
D. Bagel and Lox Board: A Classic Combination with a Twist
Bobby's puts a unique twist on the classic Bagel and Lox combination. Imagine freshly baked bagels, silky-smooth cream cheese, and a generous serving of premium smoked salmon. It's a match made in bagel heaven!
E. Charcuterie Board: A Delightful Assortment of Flavors
For those seeking a diverse lunch experience, the Charcuterie Board at Bobby's Bagel Cafe won't disappoint. Discover an exquisite selection of cheeses, cured meats, olives, and more, meticulously curated to tantalize your taste buds.
F. Hand-Rolled Gluten-Free Bagels: Catering to Dietary Preferences
Sometimes it can become difficult to find gluten-free lunch options, but not at Bobby's! Their hand-rolled gluten-free bagels are proof of the café's commitment to diversity and making sure everyone can enjoy a satisfying meal.
G. Other Delectable Lunch Offerings: Smoothies, Paninis, and More
Hungry for even more mouth-watering options? Bobby's Bagel Cafe has got you covered! Sip on refreshing smoothies, indulge in scrumptious paninis with steak, avocado, and cheese, or explore a whole world of flavors with their diverse lunch menu.
Seasonal Delights: Experience the Magic of Bobby's Bagel Cafe
A. Christmas bagels: Spreading holiday cheer in every bite
Oh, you better watch out, you better not cry, 'cause Bobby's Bagel Cafe has a delightful surprise for you this Christmas! Picture this: warm, freshly baked bagels adorned with festive colors and flavors that will make your taste buds dance with joy. From vibrant red cranberry-infused bagels to snowy white cream cheese spreads, every bite is like a little burst of holiday magic.
B. Valentine's Day Bagels: A love-inspired culinary experience
Love is in the air, and it's even better when it's on your plate! Bobby's Bagel Cafe knows how to steal hearts, and their Valentine's Day Bagels are no exception. These bagels are the ideal way to express, "I love you a bagel bunch!" because they are delicate, heart-shaped, and loaded with flavour. These bagels will make your heart melt whether you're celebrating with your significant other or rewarding yourself with some self-love.
C. Yum Yum bagels: A seasonal surprise for your taste buds
Yum Yum bagels – the name says it all! Imagine sinking your teeth into a perfectly baked bagel that's been sprinkled with a blend of seasonal spices and just a hint of sweetness. These little wonders are like a flavor fiesta in your mouth, with every bite introducing you to a new burst of yumminess. You won't be able to help but want to return for more!
D. Easter Bagels: A celebration of spring flavors
As the flowers bloom and the days get warmer, Bobby's Bagel Cafe welcomes spring with their delightful Easter Bagels. Pastel-colored and topped with a medley of fresh fruits and cream cheese, these bagels are a symbol of the season's renewal and joy. Biting into one is like taking a stroll through a blooming garden, filling your senses with the essence of springtime.
E. Pumpkin shaped bagels: Embracing the fall spirit
When the leaves turn golden and the air gets crisp, it's pumpkin season at Bobby's Bagel Cafe! These pumpkin-shaped bagels are a true autumn delight. They encapsulate the cosiness of fall since they are warm, earthy, and slightly spicy. You may make a pumpkin-spiced fantasy come true by spreading some cream cheese on top.
F. Turkey shaped bagels: A Thanksgiving treat
Gobble, gobble! Thanksgiving at Bobby's Bagel Cafe is a feast for both the eyes and the taste buds. The smart allusion to the holiday's preferred bird in the form of the turkey bagels. But don't worry, they are vegetarian-friendly and filled with tasty ingredients like stuffing and cranberry sauce. In one mouthful, it's like getting a small Thanksgiving meal!
Beyond Lunch in Reston: Bobby's Bagel Cafe's Sweet Treats and Unique Beverages
A. A Plethora of Sweet Indulgences:
Soft and fluffy swirls of cinnamon-infused goodness, these pastries are the epitome of comfort and warmth. Sink your teeth into the luscious layers that unfold with every bite, leaving you craving for more.
A heavenly dessert that melts in your mouth, Bobby's Bagel Cafe offers a variety of cheesecake flavors to suit every taste bud. From classic New York-style to fruity delights, each slice is a slice of paradise.
These adorable mini-cakes are a burst of happiness. With colorful frosting and creative toppings, they are a treat for both the eyes and the taste buds. A perfect choice for satisfying your sweet tooth.
B. Unique Beverage Options:
Imagine your regular coffee with an effervescent twist. Nitro-coffee is smooth, creamy, and infused with nitrogen bubbles that dance on your tongue. It's a refreshing pick-me-up that will energize your day.
Indulge in the whimsy of hot chocolate bombs. Place one in a mug, pour hot milk over it, and watch as it bursts open, releasing a cascade of chocolate and marshmallows. It's like a delightful hot cocoa show!
Bobby's Bagel Cafe brings a new level of elegance to tea time with teacups filled with aromatic teas. From classic blends to exotic infusions, every sip will transport you to a world of relaxation and bliss.
C. Exploring Bobby's Bagel Cafe's Delectable Pastries:
Bobby's Bagel Cafe isn't just about bagels; it's a haven for pastry enthusiasts too. From flaky croissants to rich brownies, each pastry is lovingly crafted to perfection. The display case showcases a medley of pastries, making it hard to choose just one.
D. Handcrafted Breakable Hearts: A Heartfelt Experience:
Unleash your inner child with Bobby's Bagel Cafe's handcrafted breakable hearts. These artistic chocolate creations are designed to be smashed open, revealing hidden treats within. It's a fun and heart-warming way to share moments of joy with loved ones.
Elevating Your Events with Bobby's Bagel Cafe Catering in Reston
A. Elevating Events with Exceptional Food
When it comes to hosting an event, food plays a pivotal role in creating lasting impressions. At Bobby's Bagel Cafe, we go above and beyond to elevate your events with our delectable offerings. From personalized bagels to savory charcuterie boards, our diverse menu options are designed to cater to every palate.
Our signature bagels, such as the Rainbow Bagels and Alpha Bagels, add a burst of colors and flavors to any gathering. Imagine your guests savoring the richness of lox and cream cheese atop a fresh hand-rolled gluten-free bagel – it's a taste that leaves an unforgettable mark.
B. Tailored Menus for Diverse Occasions and Gatherings
Every event is different, so it's important that we tailor our menu to meet your specific needs. Our staff at Bobby's Bagel Cafe is prepared to create a menu that properly complements your event. No matter if you're holding a corporate luncheon, a birthday party, or a wedding reception.
For casual gatherings, our paninis and smoothies provide a delightful and satisfying option. Looking to give your event a little extra elegance? Even the pickiest palates will be wowed by the delicious variety of flavours on our charcuterie boards.
C. Seamless Ordering and Delivery Process
We believe that organizing catering for your event should be as effortless as enjoying the food itself. Our easy ordering and delivery procedures are made to make planning less stressful.
Contact our friendly staff. Let them know the details of the event. We will work closely with you to create a menu that satisfies all of your needs. Once the menu has been chosen, you may relax while we handle the other details.
Our expert delivery staff makes sure that your chosen culinary treats are freshly prepared to be enjoyed, regardless of whether your event is in the centre of Reston or its surrounding suburbs.
Do you require catering services? Get them today!
Is this your home the place to be for important events? Do you require any of our unique catering items? It's not necessary to search for our caterers in all directions. All you need to do is order your meal and tell us the address where you'd like it to be delivered. Our staff will be there on time and handle all the food preparations.
Services for catering in Reston, VA, are offered at the most affordable rates. We are also offering Corporate catering services. We understand that you're searching for top-quality service. Be sure to get this from us.
Bobby Bagels Cafe catering can handle orders for small corporate events feeding a few people up to huge corporate events serving over a thousand people, whether for breakfast, lunch, business picnics, or celebrations. We are frequently nearby or in your surrounding region so that we may cater to your office in Reston, Chantilly, Herndon, Oakton, Ashburn, or Vienna at the last minute. Our team will deliver your meals, set up, and ensure the success of your event.
At Bobby's Bagel Café, We strive to satisfy your demands and satisfy your cravings. When you visit our store or order online, we take your requests seriously and aim to offer you a menu that stimulates your curiosity. We promise that the lunch you have with us at Reston, VA is one that we can make you feel welcome, and we will make good on our assurance.
List of Best Places for Lunch In Reston, VA
| Name | Address | Phone No. |
| --- | --- | --- |
| | 1484 North Point Village Center, Reston, VA 20194 | |
| | 1827 Library St, Reston, VA 20190, United States | |
| | 11901 Democracy Dr, Reston, VA 20190, United States | |
| | 11692 Plaza America Dr, Reston, VA 20190, United States | |
| | 11730 Plaza America Dr Ste 100, Reston, VA 20190, United States | |
| | 1810 Michael Faraday Dr., Reston, VA 20190 | |
| | 11130 M, South Lakes Dr, Reston, VA 20191 | |
| | 724 Pine St, Herndon, VA 20170 | |
| | 11853 Market St, Reston, VA 20190 | |
Bobby's Bagels Cafe tops the list of best places for lunch in Reston because they know how to provide a memorable experience for everyone who enters the door.
Whether you need to pick up a quick lunch for work or want to get some great bagels to enjoy at home, Bobby's Bagels Cafe will not disappoint.
Bobby Bagel's Cafe offers various bagels for every occasion, like gluten-free, alpha, rainbow, and more! The bagels are served with various choices, including salmon, cream cheese, chicken salad, turkey, tuna, and egg salad. Bobby's Bagels Cafe also has a variety of boards, box lunches, and platters, including a charcuterie board, bagel & lox board, fruit & cheese platter, etc. And Bobby's Bagels Cafe also offers an assortment of sweet treats, it includes iced sugar cookies, cupcakes, muffins, cinnamon rolls, and other baked goods.
Call:+1 571-926-9088
Website: https://bobbysbagelcafe.com/
Choosing a great place for Lunch in Reston that offers the same caliber of dining experience as those open for supper can be challenging. Because of this, Uncle Julio's strives to provide you with the greatest genuine Mexican cuisine in Reston and an outstanding dining experience, whether for lunch or supper.
Making authentic, traditional Mexican food from scratch is what Uncle Julio's in Reston is all about. From their renowned fajitas to their fresh, made-to-order guacamole, Uncle Julio's in Reston, Virginia, will provide you with a great Mexican lunch done well.
Address: 1827 Library St, Reston, VA 20190, United States
Call: +1 703-904-0703
Website: https://unclejulios.com
The cuisine at True Food Kitchen has been meticulously created to deliver enormous flavor, a multitude of fresh ingredients, and an unexpected taste with every mouthful and refreshing sip. Their artisan chefs produce traditional dishes that will make you yearn for more, with a regular rotation of seasonal specialties that make the most of naturally ripe fruits and vegetables to maximize flavor and nutrition. Seasonal, premium ingredients and easy procedures are the foundation of inventive, hand-crafted beverages that perfectly complement brunch, lunch, supper, and, of course, dessert.
Address: 11901 Democracy Dr, Reston, VA 20190, United States
Call: +1 571-926-8251
Website: https://thetruefoodkitchen.com/
The Brown Bag Reston offers a variety of lunch options in Reston. The corporate clients offer salad bags and box lunches. Brown Bag starts by making all their meals fresh every morning, whether it's a lunch and learn or a business picnic. They serve all-natural, preservative-free bread from a nearby supplier. They prepare their turkey, chicken, and steak. Even the coffee they serve is locally roasted.
Address: 11692 Plaza America Dr, Reston, VA 20190, United States
Call: +1 571-665-5455
Website: https://brownbagonline.com/
The Melting Pot is where you can find upscale cheeses, fresh seafood, juicy meats, crisp salads, and luscious chocolate. However, a meal at their Reston restaurant is about more than simply the cuisine (even though the food is great); it's an engaging and enjoyable event that allows you to rekindle and deepen your relationships with friends and family.
Address: 11730 Plaza America Dr Ste 100, Reston, VA 20190, United States
Call: +1 703-435-1277
Website: https://www.meltingpot.com/
Taco Zocalo is a real, luxury restaurant at the bustling Faraday Professional Center in Reston. This restaurant offers a wide selection of savory tacos, burritos, salsa-topped chips, and delicious churros. Customers have a variety of choices, including ground beef, seafood, and beef barbacoa as taco fillings.
Address: 1810 Michael Faraday Dr., Reston, VA 20190
Call: (571) 665-5174
Website: https://zocalotaco.com/
A simple Italian-Mediterranean cafe called Cafesano serves lunch, supper, and takeout. This airy, big cafe by Lake Thoreau offers a great setting for dining by the water. They provide a variety of delicious foods on their menu that are both influenced by Italy and the Mediterranean region. Cafesano prepares delectable traditional meals on-demand using fresh vegetables, nutritious grains, lean meats, and a variety of herbs and spices.
Address: 11130 M, South Lakes Dr, Reston, VA 20191
Call: (703) 391-2100
Website: https://www.cafesano.com/
A refined, substantial café named Russia House Restaurant combines French and Russian influences in its menu. It provides a distinctive gastronomic experience and has an excellent selection of drinks. The meal is outstanding and includes mouthwatering pate and succulent beef stroganoff. Although the pandemic changes may have changed the online menu, it is still a great option for a special occasion or romantic lunch in Reston.
Address: 724 Pine St, Herndon, VA 20170
Call: 703) 787-8880
Website: http://www.russiahouserestaurant.com/
The Capital Burger is a branch of an upscale steakhouse company that serves traditional American fare in a chic and upscale setting. This burger company, which is situated in Reston, Virginia 20190, serves up breakfast sandwiches, warm pretzels, ribeye sandwiches, and their unique burgers, which can be ordered with toppings like wild mushrooms, bacon, and blue cheese. Additionally, the restaurant offers tasty and easy solutions for gluten-free customers.
Address: 11853 Market St, Reston, VA 20190
Call: (703) 464-5612
Website: https://www.thecapitalburger.com/
The best cafe for people who like to eat out for lunch in Reston is Bobbys Bagels Cafe. We have great food & meals which includes gluten free bagels, sandwiches, smoothies, pastries, Cinnamon Rolls, paninis, avocado & much more, and we also have a very friendly staff. 
You can have any type of food you want at Bobby's Bagels Café. However, if you're on a special diet you can have our gluten-free & vegan items like gluten free bagels, gluten-free cookies, cupcakes, etc.