Welcome to the world of Creamcheese, where we have an extensive range of creamcheese flavors including:
Plain Creamcheese
Lite Creamcheese
Jalepeno Creamcheese
Garlic and Herb Creamcheese
Scallion Creamcheese
Salmon Creamcheese
Strawberry Creamcheese
Blueberry Creamcheese
Honey Walnut Creamcheese
Rainbow Creamcheese (Seasonal- Easter) 
Apple Pie (Seasonal- Christmas)
Pumpkin Flavored (Seasonal-Fall)
Cream Cheese: A Symphony of Flavours for Culinary Creations
Cream cheese, oh what a delight! This varied and well-liked dairy product has won the hearts of people everywhere. Cream cheese is a special ingredient that makes food taste really yummy! It's smooth and tangy, and it makes recipes extra special. It can be used to make exquisite cheesecakes, spread over your favourite bagel, or add flavour to dips and spreads. Cream cheese is a superstar in the kitchen that always impresses!
Starting with the traditional, plain cream cheese. It is beautiful in its simplicity. With its smooth and velvety consistency, this unassuming white spread effortlessly enhances the flavours of countless recipes. Spread it on a warm bagel for a heavenly breakfast, whip it into a creamy dip for your favourite veggies, or let it shine as the star ingredient in a luscious cheesecake. The possibilities are endless with this versatile gem.
For those seeking a healthier option without compromising on taste, enter lite cream cheese. This lighter version of the beloved classic boasts reduced fat and low-calorie content while maintaining that luxurious creaminess we all adore. You may enjoy your favourite cream cheese recipes guilt-free without having to worry about your weight. So, go ahead and use it as the base for a delectable vegetable dip or spread it on toast in the morning.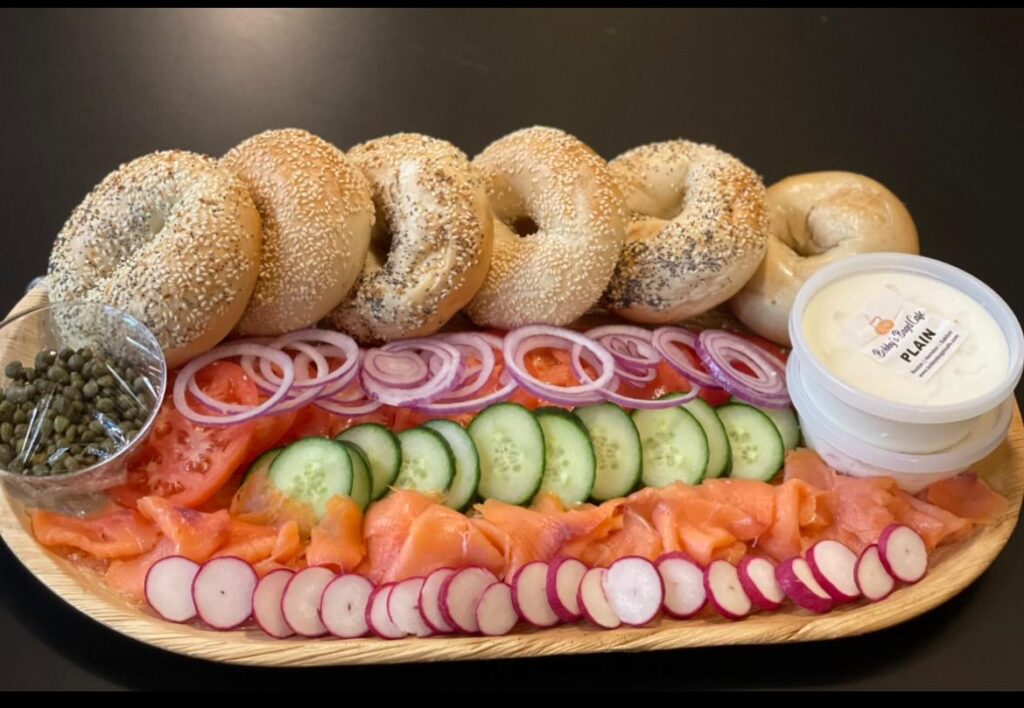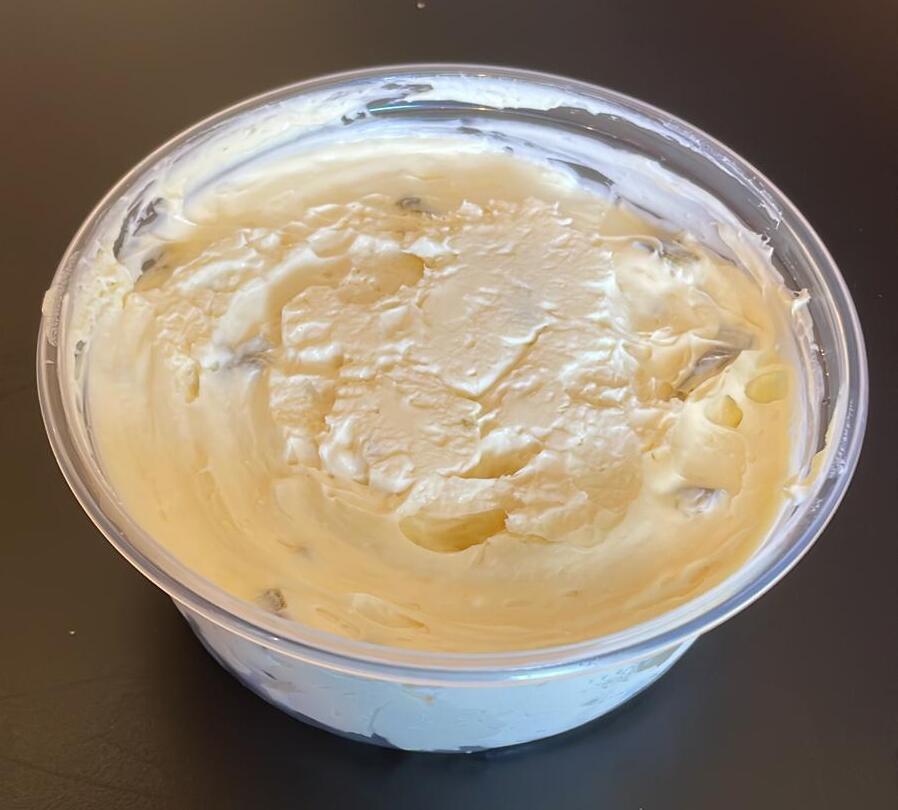 Are you prepared for some spice? Enter jalapeno cream cheese, a hot mashup of creamy deliciousness and zingy jalapenos. This flavour-packed delight adds a kick to your Tex-Mex dishes, like jalapeno poppers or spicy dips. With its bold and tantalizing taste, jalapeno cream cheese injects a burst of excitement into your recipes, leaving your taste buds dancing with joy.
Garlic and Herb Cream Cheese
For the herb enthusiasts and garlic lovers, garlic and herb cream cheese is a match made in culinary heaven. A flavour explosion is produced by the harmonious blending of cream cheese with garlic, chives, dill, or parsley and can be spread on crackers or used as a dip for raw vegetables. It instantly wins over the crowd thanks to its flavourful and fragrant qualities, which provide an enticing attraction to any cuisine.
Imagine cream cheese infused with the fresh crunch of scallions or green onions. Scallion cream cheese delivers precisely that, adding a delightful twist to your bagel experience. It complements sushi rolls beautifully and makes a delicious topping for your morning bagel thanks to its zingy flavour and creamy texture. It combines simplicity and complexity in a way that will delight your palate.
For the seafood enthusiasts, salmon cream cheese offers a taste sensation like no other. Infused with the smoky richness of smoked or cured salmon, this cream cheese variation brings a touch of elegance to your brunches, sandwiches, or even savoury pastries. Its distinct flavour profile creates a luxurious experience that will leave you craving more.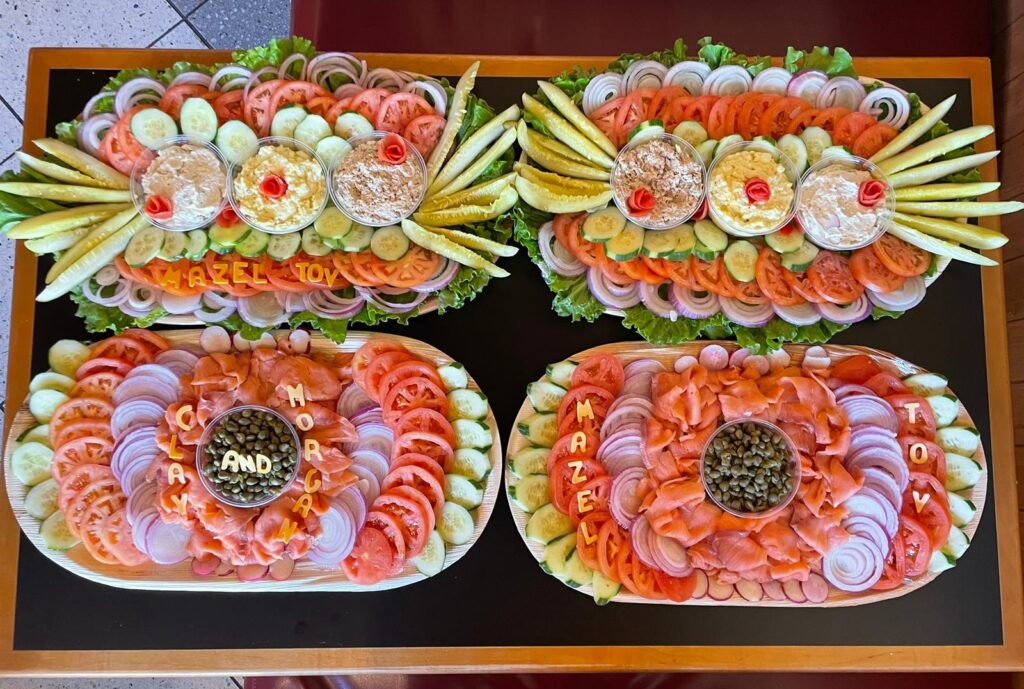 The Bagel & Lox board offers a symphony of flavors and textures that cater to a wide range of preferences. From gluten-free options to vegan alternatives, and from savory additions to delicate delights, this culinary masterpiece has something for everyone. So why not indulge in this versatile and delectable dish? Dive into the
Honey Walnut Cream Cheese
Indulgence takes on a whole new meaning with honey walnut cream cheese. This lovely concoction of cream cheese, honey, and chopped walnuts can be spread on warm toast or used as a delightful ingredient in dessert preparations. This variant is a true sensory pleasure because to the pleasing crunch of the walnuts and the creamy sweetness of the honey.
Let's talk about blueberry cream cheese flavors! Imagine taking your favorite blueberries, all juicy and sweet, and mixing them into a soft, creamy cheese that spreads like a dream on a bagel or toast. It's like a little berry party in your mouth!
Now, picture this: you take a bite, and boom! Your taste buds explode with bursts of berry goodness, while the smooth cream cheese gives it a velvety hug. It's like eating a blueberry cloud, but way tastier!
See, blueberry cream cheese is like a magic potion that turns breakfast time into a delightful adventure. You can slather it on pancakes or stuff it in a pastry for a lip-smacking treat!
Imagine biting into a fluffy cloud of sweetness with a fruity surprise. It's like a little party in your mouth! Cream cheese, which is smooth and creamy like a soft pillow, gets even better with the addition of juicy strawberries. The tanginess of the cream cheese perfectly balances the sweetness of the strawberries. It's like a dance of flavors in your taste buds!
Have you ever tried spreading this deliciousness on a piece of warm toast? It's like a breakfast dream come true! You'll smile ear to ear thanks to the cheese's smoothness and the delicious strawberry explosion. It's like spreading joy on your bread! And don't forget about the visual appeal. The vibrant red of the strawberries against the creamy white cheese is a sight to behold.
It's like a gorgeous masterpiece created especially for your dish! Whether you spread strawberry cream cheese over a bagel, muffin, or pancake, the wonderful treat will make your taste buds jump for joy.
So, attempt it and let the strawberry cream cheese magic transport you to a delicious destination.
A. Rainbow Cream Cheese for Easter
Cream cheese adorned with vibrant, pastel colours, reminiscent of Easter celebrations. Rainbow cream cheese adds a playful and whimsical touch to themed desserts or as a delightful frosting for cakes. Your Easter celebrations will be much more enjoyable because it is a feast for the eyes and the palate.
B. Apple Pie Cream Cheese for Christmas
During the Christmas season, the aroma of apple pie fills the air. Now imagine cream cheese infused with the flavours of apple pie, cinnamon, and spices. This festive delight can be spread on toast, used as a dip for apple slices, or incorporated into a variety of holiday recipes. Apple pie cream cheese captures the essence of Christmas and adds a warm and comforting touch to your culinary creations.
C. Pumpkin Flavoured Cream Cheese for Fall
The pumpkin mania starts as soon as autumn arrives. Cream cheese that has been flavoured with pumpkin and has nutmeg and cinnamon undertones is the pinnacle of seasonal treats. This velvety treat adds the warm flavours of the season to your table, from pumpkin bread to seasonal cheesecakes. It's like a slice of autumn in every bite.
Cream cheese, with its wide array of flavours, offers a world of culinary possibilities. From the classic plain variation to the adventurous combinations of veggie, jalapeno, garlic and herb, scallion, salmon, fruit, honey walnut, and seasonal flavours, each variation adds its unique touch to your sweet and savoury recipes. So, go forth, dear readers, and explore the wonders of cream cheese. Let your taste buds guide you on a flavourful journey, where the only limit is your imagination. Unleash your culinary creativity and let cream cheese elevate your dishes to extraordinary heights.