This Bagel & Lox Charcuterie Board has everything you need for a delicious breakfast or brunch for a small/large group. At a family brunch, charcuterie boards are a fun way to present food. Rather than having everyone go to build their bagels, a serving board with all the possibilities is a lot more entertaining. 
What to Put on Your Bagel & Lox Charcuterie Board?
There are a few standard ingredients we include on our Bagel & Lox Charcuterie board. Bagels – the most crucial component of the Lox Charcuterie board. Before they reach your plate, our bagels go through a special process. Sesame seed and plain bagels are popular choices. Everything bagels are also delicious. If there isn't enough room on the board, the bagels can be served in a separate basket near the board and we serve it on a decorative platter as well. Our most bagels are vegan and we do offer vegan Cream cheese as well. We also offer Gluten-free bagels. So there is something for everyone.
Cream Cheese- We offer a wide variety of spreads. Plain and Veggie cream cheese is excellent. 
Lox – We use a high-quality lox that is sliced thickly and served on the Lox Charcuterie board. You should also have little tongs on hand to pick up the lox Charcuterie board. 
Capers — serve with a spoon a small bowl of capers.
Lemons, sliced or wedged — the lemons can be used to spritz on top of the bagel, but they also lend a lovely bright element to the board.
Cucumber slices
Red onion rings — split up the discs so that only one ring is needed. A full slice would be too much for a bagel.
Tomatoes, sliced; radishes, sliced
Fresh herbs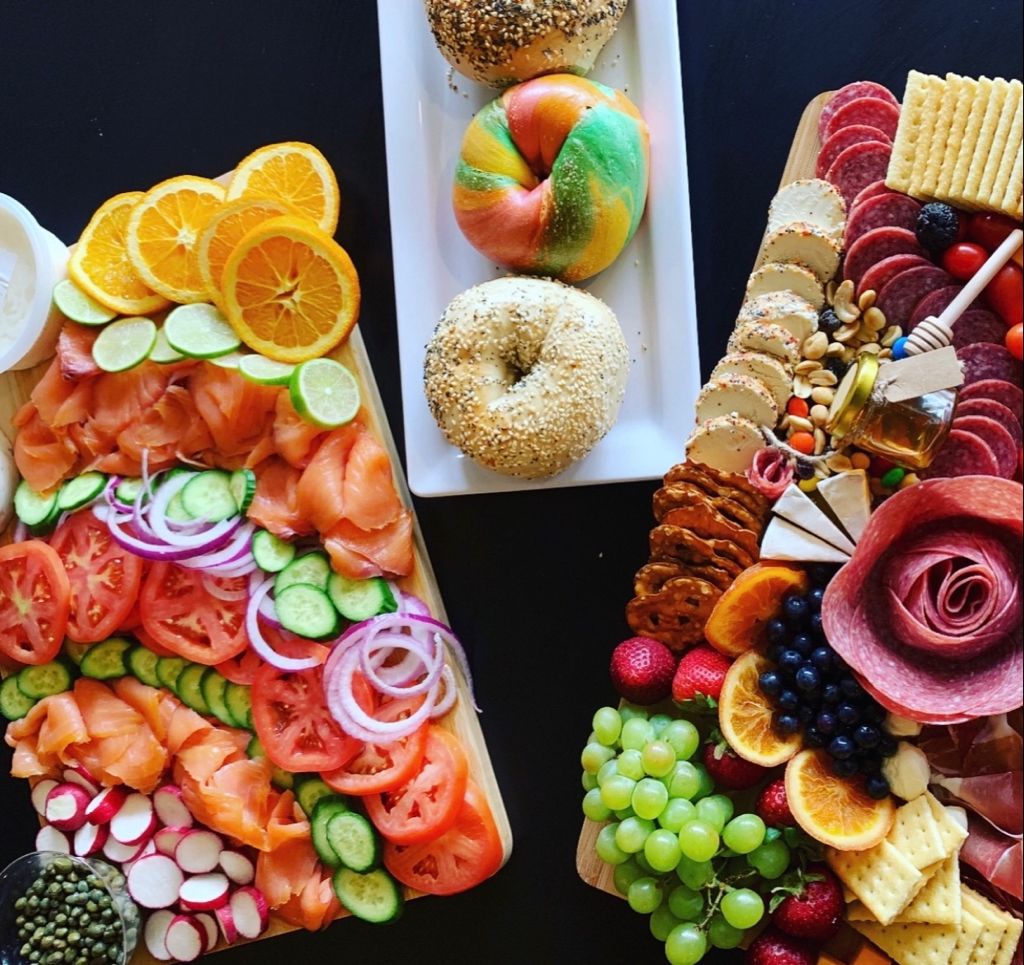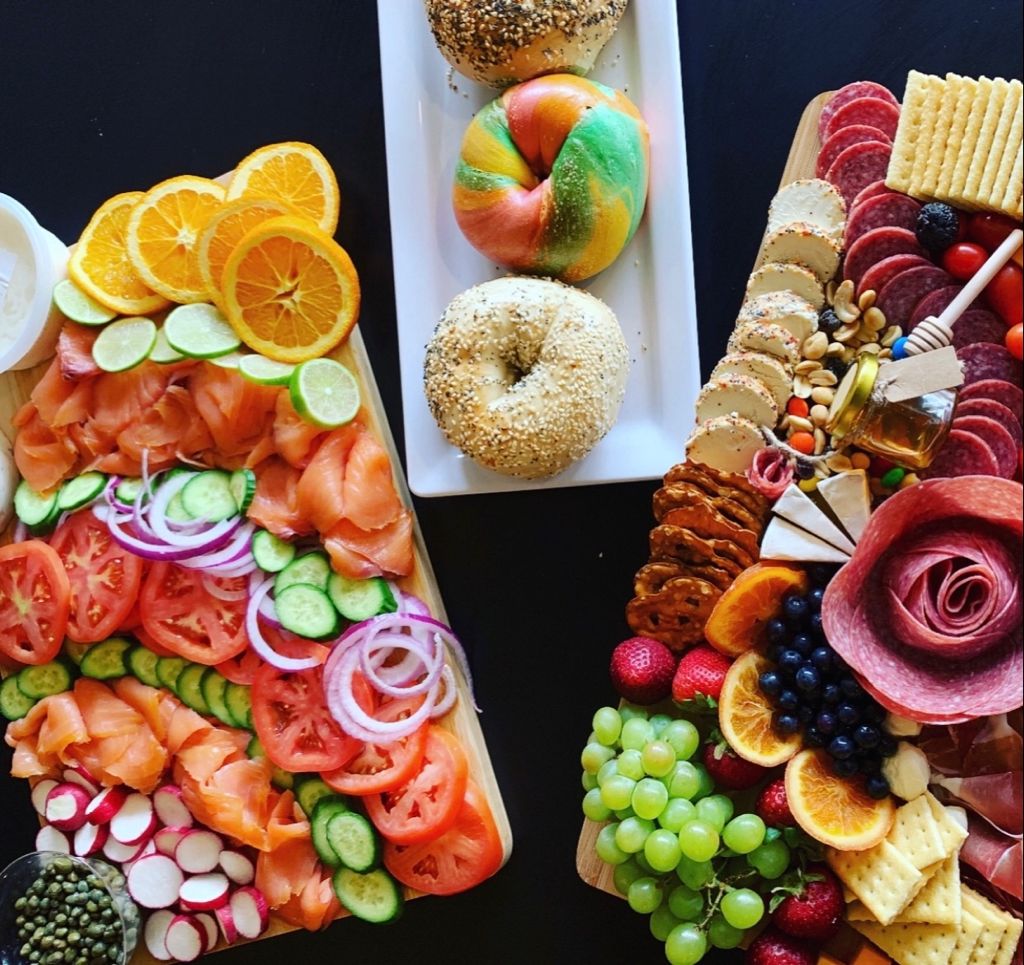 This variation provides a wide range of options for topping your bagel. On the board, there's something for everyone's tastes. Lox with bagels is a quick and easy no-cook breakfast or brunch dish that's loaded with all the good stuff! The possibilities are unlimited with any two types of cream cheese and a variety of seasonings!
We Cater, We Deliver
We're officially fascinated with breakfast boards! They're a great family breakfast idea because there are so many delicious combinations to choose from menu , and the end result is always stunning! Summer has arrived, and there's much to enjoy!
We have products that are ideal for business luncheons, tailgating parties, birthday celebrations, corporate events, office meetings, and even bridal showers. And what we do to commemorate all of these occasions. Whether you need to feed a few or a lot of people, we've got you covered. Orders must be placed at least 48-72 hours ahead of time.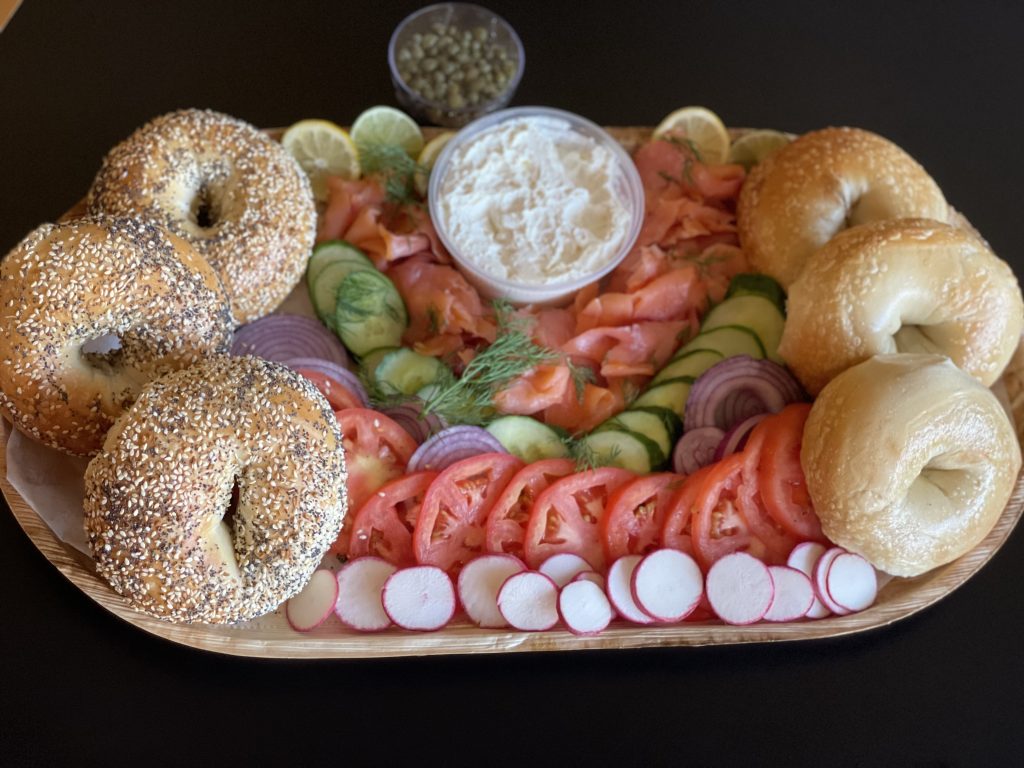 WE ARE EATING! Breakfast platters with lox and bagels are a must. The soul wants chewy, toasty bagels with delicately salted, smoked salmon and thick cream cheese. It's quite heartwarming to see all of the kids gathered around the table, busy assembling their plates with all of their favorite ingredients. A breakfast board brings people together like no other! You will really adore delicious cuisine and quality time together!