Catering in Vienna, VA | Corporate Catering
Catering in Vienna, VA
Corporate Catering

Bobby's Bagel café offers catering services for your next occasion in Vienna, VA. We're delighted to serve guests at all kinds of events, from corporate functions to celebrations for birthdays, holidays, weddings and much more. Catering menus offer a variety of items that guests will love. We cater for breakfast and lunch in Vienna. Take a look at the variety of food items available and organize your event right away.
Every meal planning needs menu Options.
Bobby's Bagels cafe offers catering services for customers in Vienna, VA, and we cater to almost all tastes. We also cater to those who have a restricted diet due to medical reasons. For instance, lots of people suffer from an allergy. Therefore, we offer gluten-free items. This includes:
We also offer vegetarian and vegan meals and organic and non-GMO options. Here's a list of items you can include in your breakfast and lunch menus.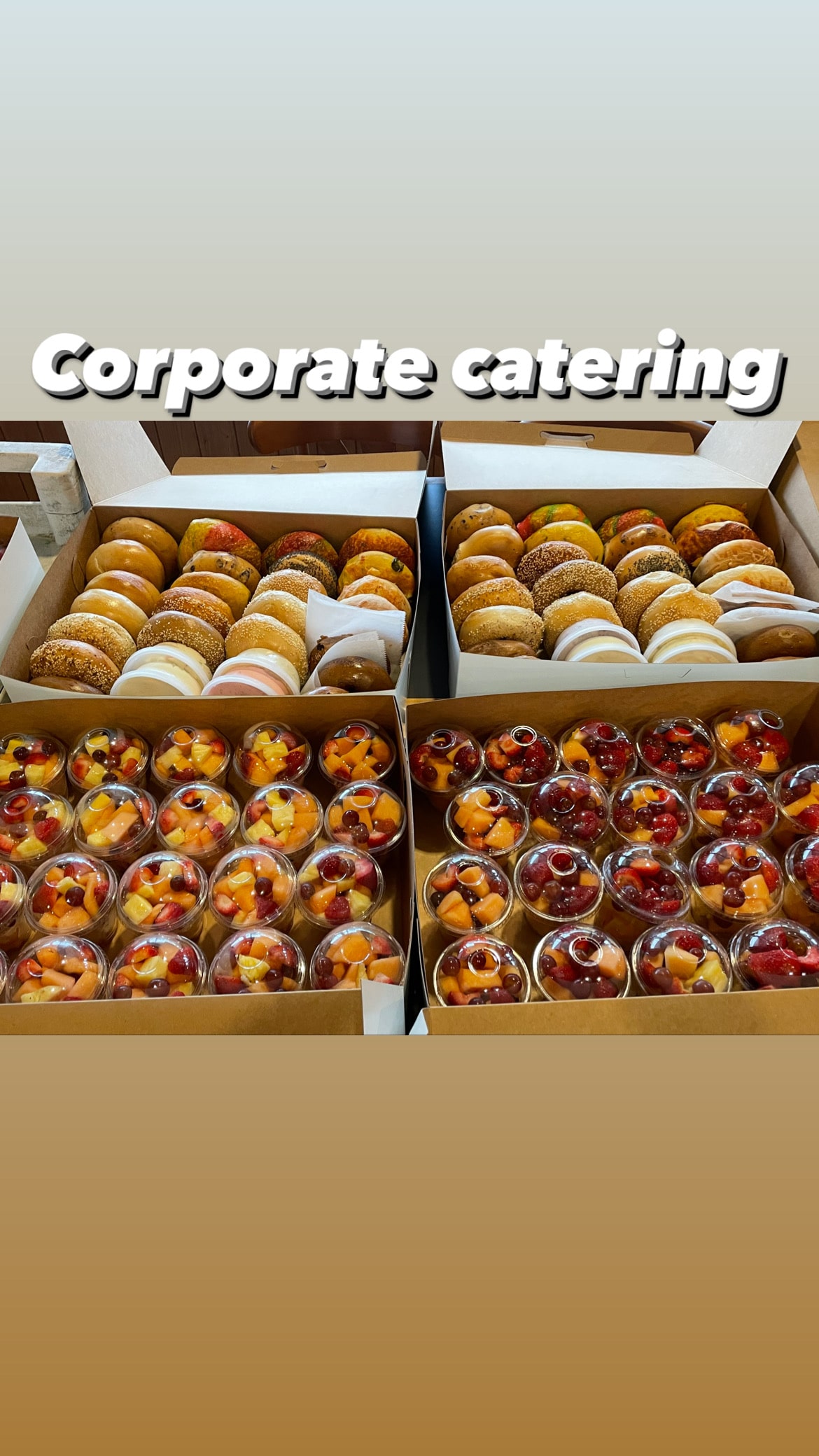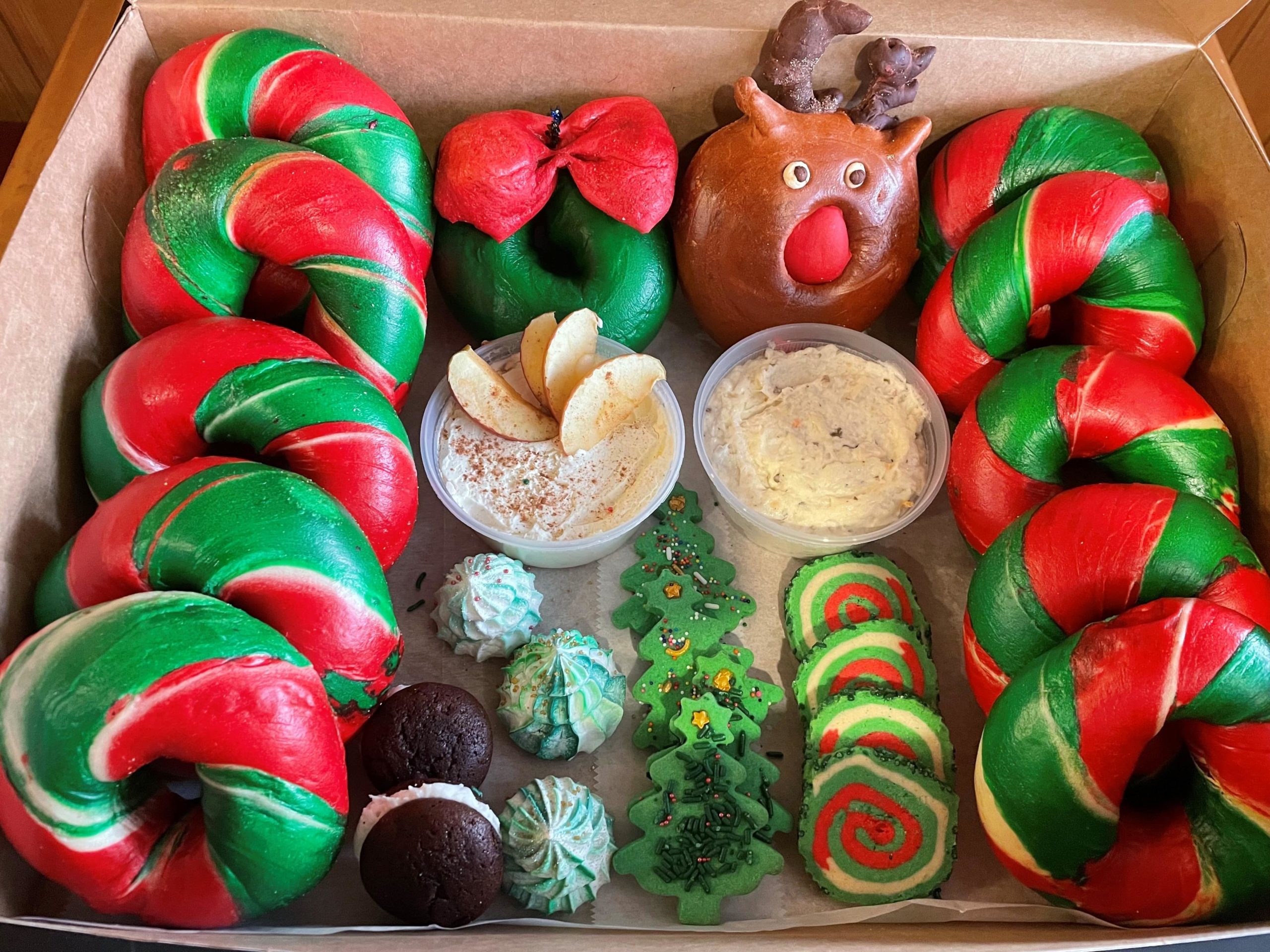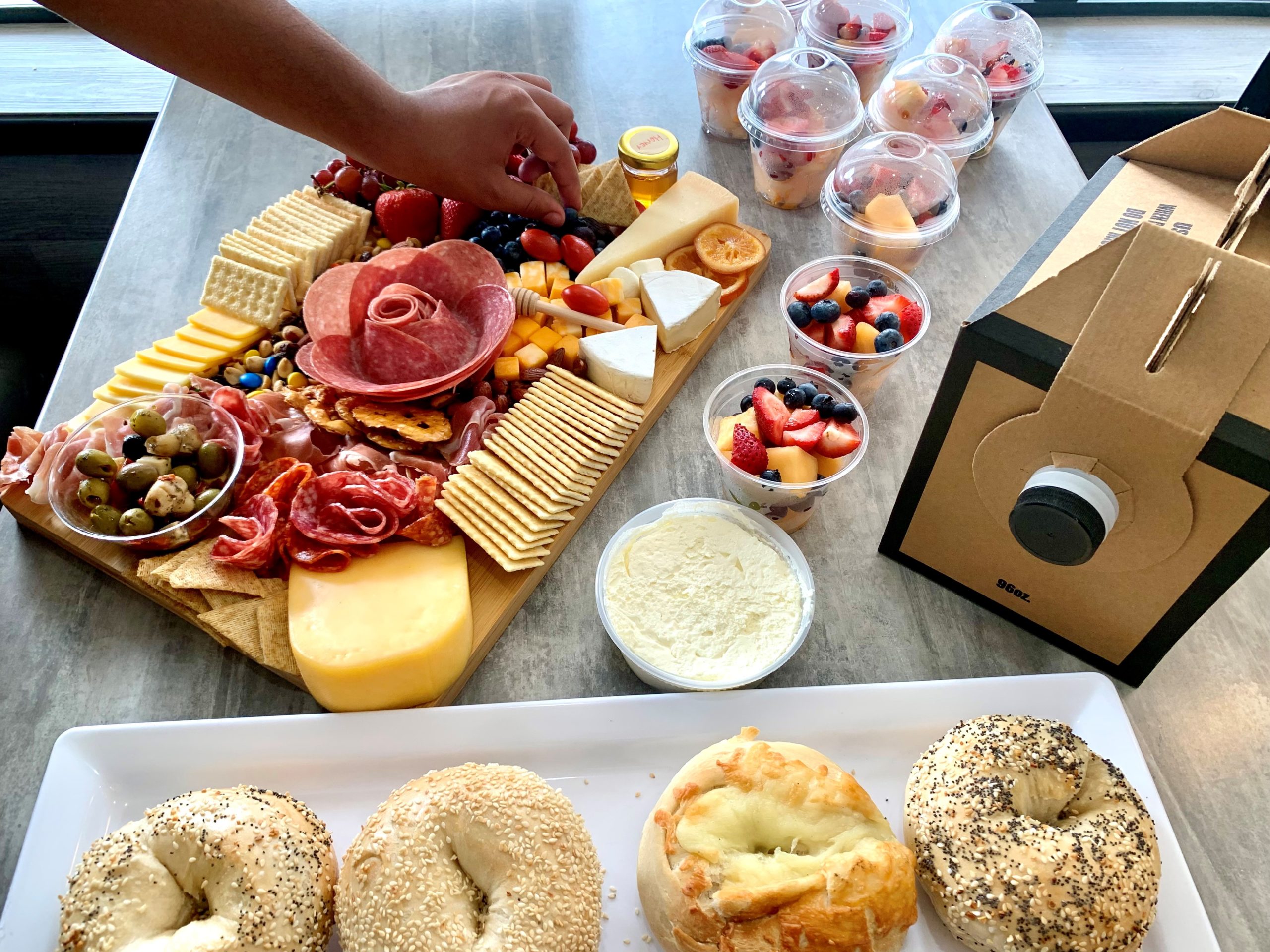 For Breakfast catering in Vienna, VA
Bobby's Bagel Vienna VA, catering varieties include bagels, and lox served with toppings like tomatoes and capers, cream cheese, capers, and red onions, as well as cheddar cheese and avocado as alternative options for vegans. We also provide breakfast in Vienna in the form of the Bagged Breakfast for those who want to participate in healthy events. Breakfast includes sandwiches of your choice as well as cookies in every bag. Breakfast can also be served in wraps for those who prefer keeping the menu simple. It includes the following: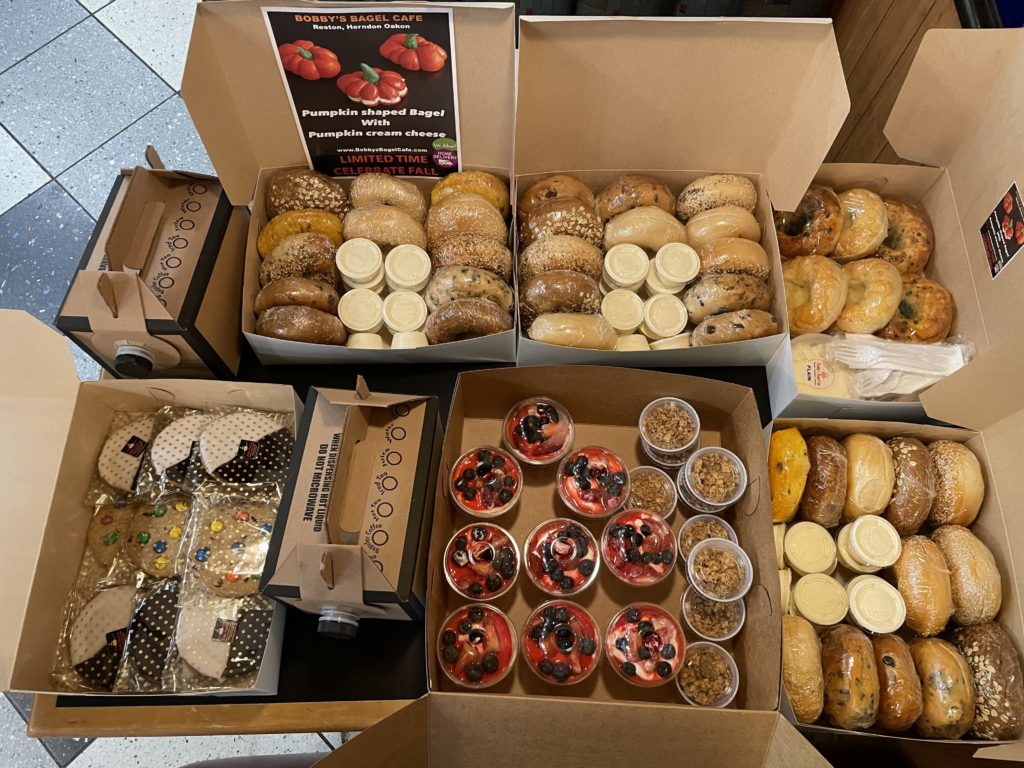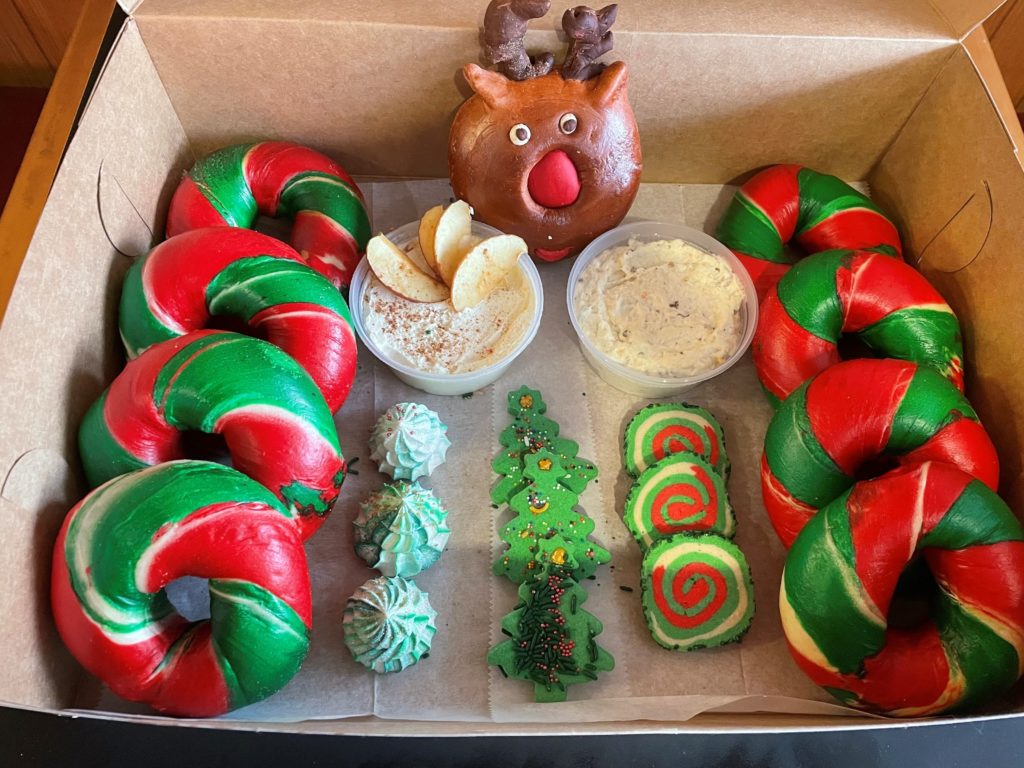 For Lunch Catering in Vienna, VA
The catering services offered by Bobby's Bagels Café serves various sandwiches. Bagels and Box selections with a range of meal or side dishes are also available for catering lunch. The freshly prepared Bagels variety makes making a stunning lunch buffet easy.
The catering menu comprises drinks and smoothies to accompany your meal as required. Of course, we're delighted to serve sweet desserts to complete your dinner.
Beverages and Smoothies Includes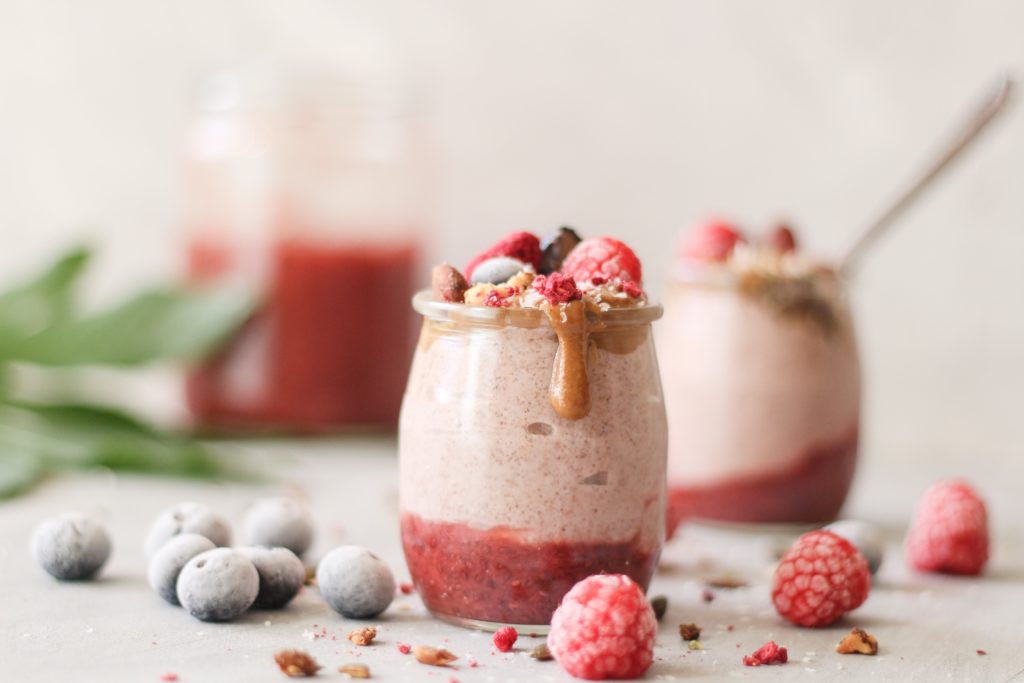 Corporate Catering in Vienna, VA: Elevate Your Business Events with Bobby's Bagel Café
Corporate Catering in Vienna, VA:
Elevate Your Business Events with Bobby's Bagel Café
Get ready to take your business events in Vienna, VA to the next level with the one and only Bobby's Bagel Cafe! Imagine this: your next corporate gathering isn't just about suits and PowerPoints, it's about a delightful symphony of flavors and presentations that awaken everyone's taste buds. That's where the magic of corporate catering comes in.
Diverse Culinary Delights for Your Corporate Catering Experience in Vienna, VA
When it comes to corporate catering in Vienna, VA, Bobby's Bagel Cafe is the name that stands out.  They offer a wide range tempting food item. This will astound your guests. Let's take a delectable journey through their unique offerings that redefine corporate dining:
• Gluten-Free Bagels: A Taste of Inclusivity
Gluten-Free Bagels: A Taste of Inclusivity
For those with dietary preferences and restrictions, Bobby's Bagel Cafe serves up an inviting assortment of gluten-free bagels. No one should miss out on the bagel experience, and these little rounds of goodness ensure that everyone can indulge, regardless of dietary needs.
• Customized Alpha Bagels: Your Corporate Signature
Customized Alpha Bagels: Your Corporate Signature
Elevate your corporate events to a whole new level with customized alpha bagels, pumpkin shaped bagels, rainbow bagels, etc. Imagine your company logo or event theme creatively carved onto these delectable delights. It is more than food. It is a personalized touch that makes a statement.
• Rainbow Bagels with Rainbow Cream Cheese: Taste the Spectrum
Bring a burst of color and flavor to your gatherings with rainbow bagels accompanied by their equally vibrant rainbow cream cheese counterpart.
• Lox and Bagels: The Breakfast of Champions
Early morning meetings call for a sophisticated and satisfying choice. A classic combination of lox and bagels offers an exquisite breakfast spread that radiates quality and flavour.
• Iced Sugar Cookies and Cupcakes: Sweet Sensations
Inject a dose of sweetness into your corporate gatherings with iced sugar cookies and cupcakes. These delectable treats not only excite taste buds, but they also fostersatisfaction among guests.
• Fresh-Baked New York Style Bagels: Expertise on Every Bite
With their freshly made bagels, Bobby's Bagel Cafe pays homage to the classic New York aesthetic. A constantly outstanding experience is guaranteed by the cafe's mastery of the bagel-making process, which is evident in every bite.
Savory Selections for All Tastes at Bobby's Bagel Cafe: For a great Corporate Catering Experience in Vienna, VA
At Bobby's Bagel Cafe, we are not just about food. We believe in creating sensory experiences that pique your interest in food. With an assortment that spans from the evergreen delights of Classic Deli Sandwiches to the refreshing embrace of Salads and the artistic allure of Fresh-baked Sweets, there's something for every palate.
• Classic Deli Sandwiches:
Step into a world of timeless perfection with our Classic Deli Sandwiches. They are made with a selection of premium quality meats, cheeses and freshly baked bagels. These delicious compositions will satisfy your hunger. Sink your teeth into layers of succulent turkey, robust roast beef, and zesty pastrami, all nestled between the embrace of our fluffy bagels. A culinary masterpiece that endures the test of time, each bite is a flavour and texture harmony.
Our salads are a monument to freshness and satisfaction for those looking for a lighter yet equally satisfying option. Catering to the health-conscious connoisseurs, our salads are a vibrant ensemble of crisp greens, ripe vegetables, and a symphony of dressings that dance on your palate. From the zesty Caesar Salad to the exotic Mediterranean Medley, each dish is a testament to the talent of combining nutritious components to create a balanced feast. It is more than just a salad. It is an ode to flavour and vigour.
Indulgence meets innovation with our collection of fresh-baked sweets. Elevate your senses with a selection that ranges from classic chocolate chip cookies to avant-garde pastries that defy convention. Our pastry experts create a world of wonder with buttery croissants, velvety cakes and imaginative confections. This is a place of sweetness and inventiveness coming together to give you a symphony of flavours that will stay in your memory.
Impress Your Guests with Delectable Platters: Taking Your Event in Vienna, VA to the Next Level
Looking to jazz up your get-together? Look right here at these irresistible platters. They're all set to sprinkle a dash of culinary class onto your shindig and make your pals go "Wow!" With choices covering everything from salty to sweet, these platters have got something that'll tickle everyone's taste buds. Ready to dive into a world of flavors? Let's roll!
• Cheese Platters: A Sophisticated Addition
Embrace the epitome of sophistication with our meticulously crafted cheese platters. A curated selection of artisanal cheeses, paired harmoniously with fresh fruits, nuts, and crisp crackers, creates an ensemble that is both visually appealing and palate-pleasing. Elevate your event's ambiance by indulging your guests in a taste of elegance that's as delightful as it is refined.
• Lunch Sandwich Platters: Convenience Redefined
Tired of the mundane lunch options? Enter our lunch sandwich platters – a symphony of flavors encased in hearty bread. These platters offer a wide range of options, from traditional turkey and roast beef to inventive vegetarian and grilled panini combinations. They ensure that your guests appreciate every bite. They are practical yet rewarding.
• Breakfast Platter: Energize Your Mornings
Start your morning meetings on the right foot with our invigorating breakfast platters. Our assortment of invigorating choices includes flaky pastries and nutritious granola parfaits. We aim to excite taste buds while also increasing productivity. Because a successful event starts with a hearty and flavorful beginning.
• Wrap Platter: A Modern Twist on Tradition
Unwrap a modern twist on traditional lunch fare with our diverse wrap platter. Because they are overflowing with a combination of exotic flavours and textures, these pocket delicacies rethink the concept of a full meal. From acidic grilled chicken to flavourful veggie wraps, every bite is a sensory adventure.
• Dessert and Cookies Platters: Sweet Temptations
Indulge your guests' sweet tooth with our dessert and cookies platters. Any gathering is transformed into a celebration of delicious treats by a tantalising selection of small pastries, cakes, and cookies. These platters, which comprise everything from delicate fruit tarts to rich chocolate treats, add a particular touch of sugary charm that will make everyone smile.
• Bagel and Cream Cheese Platter: A Nod to Excellence
With our iconic bagel and cream cheese platter, honour the core of our cafe's expertise. This mix of freshly baked bagels and luscious cream cheese spreads honours our ancestry.
• Classic Deli Platter: Curated Delights
Step into a realm of classic flavors with our deli platter, an homage to the timeless deli experience. Travel back in time through a flavorful culinary adventure.You can enjoy delicious cured meats, handcrafted cheeses and tasty condiments. These will definitely please your taste buds.
Tailored Experiences with Themed Menus: Make your own Corporate Catering Menu in Vienna, VA
At Bobby's, the magic lies in their ability to infuse each menu with a bespoke touch. Whether you're celebrating a birthday, launching a product, or hosting a gala, their culinary virtuosos concoct dishes that mirror your event's aura.
Flexibility is their forte, allowing you to align your menu with your event's theme or branding seamlessly. Their muse is inspired by your vision. With a finesse worthy of a master craftsman, Bobby's Bagel Cafe can blend flavors, textures, and presentation to mirror your brand's colors, ethos, and energy.
Convenience of Boxed Meals:
Rise and shine without the fuss. Bobby's curated boxed breakfasts offer a hassle-free solution for early morning events. Imagine starting your day with a bountiful box brimming with golden bagels, creamy spreads, fresh fruit, and aromatic coffee. It's like having the essence of a cozy café right in your hands, perfect for on-the-go professionals or sunrise gatherings.
In the midst of a bustling workday, boxed lunches come to the rescue. These smart technologies combine satisfaction and ease to bring delectable meals right to your desk.Savor the succulent bagel sandwiches, crisp salads, and delectable desserts, all neatly packed in a single box. No more juggling forks and plates; just pure gastronomic bliss.
We offer Contacless Delivery and setup!
Bobby's Bagel Cafe can accept orders that span from two to three guests, up for larger events that cater to more than 100 people regardless of whether it's breakfast or lunch, corporate picnics, weddings or other events. Our staff will assist you with catering and ensure that you have a successful event. We offer contactless delivery service in Reston, Herndon, Vienna, Oakton and other nearby areas to our customers.
Are you keen on getting the best catering service in Vienna, VA? If so, Bobby's Bagel Café will be delighted to serve your guests.