Christmas is on the verge, but you still haven't planned anything? Now is the perfect time for you to start thinking about the best Christmas gift ideas to present and different ways to celebrate this occasion with your family, friends, or colleagues. This festival is considered to be a day when everyone is happy and cheerful. We wait for months and months for the biggest holiday of the year.
Christmas is not too far. If you are thinking that the Christmas holidays are far away and there are too many days to think about Christmas gifts, you are wrong. You must start to decide about Christmas gifts for friends &  family from now on so that you may prevent yourself from hurrying hassle
Celebrating Christmas with joy and happiness becomes our priority. We try a lot to make this more special and memorable, and at this time people start to think Christmas gift ideas that fulfils everyone's expectations. But, on the other side this might be one of the most hectic periods of the year during times. There are often much to do in such less time, especially when it relates to think about different Christmas gift ideas as you want to give something unique and best gift to your dear ones.
But it seems impossible right?  So, to guide you in picking the best Christmas gift for your loved ones. We've gathered up a list of great Christmas gift ideas for friends, family & your loved ones to brighten their moods this Christmas. Here at Bobby's Bagel Café, we compel to help you. Celebrate this Christmas with us that are sure to amuse you.
Couple Christmas Gift Ideas
Christmas is the time of year when you play Santa Claus song and make your vacation even more extraordinary with your loved one. It only takes a little perseverance, research, and a few main pieces of advice to complete your shopping sleigh with some of the time's must-have Christmas gifts. We at Bobby's Bagels Café offer some delicious Christmas & New Year Eves food ideas that you can give as a gifts to your special ones, like hot chocolate bombs, breakable hearts, floral cupcakes, muffins, Christmas bagels and much more.
Christmas is the occasion of happiness and sweetness and we are sure your dear one loves to eat happy meals these days. You can even pre-order and get your delivery done in Vienna, Herndon, Reston, Vienna, Sterling, Aldie, Chantilly and Oakton areas.
Christmas Gift Ideas for employees
This Christmas, maintain healthy corporate relations by giving superb corporate gifts and personalized products to all your staff members and employees.
A gift hamper is a packaging of feelings, love, and emotions. Gift hampers are often given by many people to create a healthy business relationship. But not only business but actually many personal relations can be made stronger. Bobby's bagel café offers a variety of Christmas gift ideas and hampers that are perfect Christmas gift idea for employees.
You can even customize yourself a gift basket according to your compatibility with variety of products including Christmas bagels, house sugar cookies, house gluten-free iced sugar cookies, hot chocolate bombs, charcuterie boards, DIY cookie kits, DIY gluten free cookie kit, dessert or pastry boards . Gift hampers make a perfect corporate gift to give. As they are attractive and easily available.
You can also arrange a Christmas party in the office. This will increase the productivity and morale of all the employees. We also offer catering service in Vienna, Oakton, Herndon, Reston and other nearby areas for Christmas, New Year parties, birthday parties & other corporate events.
Special Christmas Gift Ideas for her
Bobby's bagels café offers a variety of Christmas themed bagels like Wreath bagels which are breath-taking and amusing, and they are arranged like a wreath of flowers. Surprise your girlfriend by gifting her a Customized bagel that would will be a perfect Christmas gift idea with double whipped Apple Pie cream cheese.
You can even maintain a healthy corporate relation by giving Christmas-themed authentic New York style boiled bagels to your clients, staff, teachers, and colleagues. Get bagel and dessert gift basket delivered to almost anywhere in NOVA including  the Herndon, Reston, and Oakton, Vienna, Aldie, Chantilly, South riding areas, thus helping you to order these fresh bagels with ease.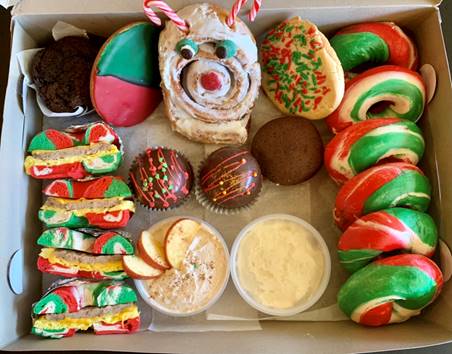 Customized special Christmas gift ideas for relatives
Getting your own customized gift basket or hamper sounds great. But we also offer customized alpha bagels. Due to workload, attending family gatherings become hard but gifting a customized bagel gift basket accompanied by apple pie cream cheese doesn't sound like a bad or difficult idea.
How Christmas bagels & other items can be one of the best Christmas gift ideas for friends & family ?

1. Christmas-Themed Bagels
Warning! This will make you hungry. Christmas-themed bagels (Red, White, Green), accompanied by snowman cocoa balls and hot cocoa balls are all you need this holiday. This beautifully wild combination is not only tasty but also glorifies the tradition of Christmas. These bagels are perfect for corporate catering and will make a perfect choice for Christmas. While delivering, we ensure COVID safe delivery without violating any norms. This Christmas gifting bagels that match the theme and are baked with authenticity seems to be one of the  great Christmas gift ideas.
2. Vegan and Gluten-free Bagels
To prioritize health, we came up with the idea of gluten-free bagels. Gluten-free bagels are not only healthy but are also delicious. This holiday give your breakfast a new vegan-style multigrain bagel with a healthy cashew spread accompanied by some fresh banana topping. Whether it's a Healthy veggie salad with healthy avocado on its top, or a veggie delight sandwich, we can deliver it all. You can even have gluten-free bagels in your diet, as they are good for your health and will fit in your macros.

3. Bagel and Lox Board:
Bagels are everyone's favorite meal for any happy event. You can try some yummy toppings on bagels such as sliced cucumber, avocado, green onion, lettuce, pickled veggies, diced, and sprouts. Bagels are presented with smoked seafood, which can make a perfect seafood salad.
The combination of Bagel and Lox board is amazing. You can serve something beyond just smoked salmon with tuna. This is the yummiest meal to give smile on somebody's face.
4. Lox and Turkey Platter:
If you want to make your evening meal beautiful and if you want to give a special treat to your guest, then this lox + turkey combo platter is perfect. Oh my god, this platter is going to be fantastic for your family.
5. Floral Cupcakes:
Cupcakes, as you know, are small cakes to serve only one person. The sweetest delight to serve your guest, and you can give these sweets as a  Christmas gift to somebody you want. The best thing about cupcakes is you can make them in any flavor which you like. Top the cupcake with some fruits and nuts that make it more pretty and tasty. Our cupcakes are made fresh to order and we match the floral colors to your theme.
Many flavors are most popular in cupcakes, such as caramel crunch, chocolate cupcake, strawberry cupcake, and many more. Cupcakes can be styled up in so many ways. For example, cupcake bouquets, floral cupcakes, and barbecue cupcakes, etc.
6. Muffins:
A muffin is an individually sized, baked item. It can snap to two distinctive things, a section of raised flatbread that is heated and then cooked on iron, and a cupcake-like quick bread that is artificially raised and then prepared in a mold. Muffins are so soft and sweet with a chewy bite. The soft texture is so chewy that it melts into your mouth.
Add some cookies and chocolate beans that give a more perfect look and the best gift to give your loved ones. Muffins come in lot of flavors like chocolate muffin, blueberry muffin, banana nut, pumpkin muffin, coffee cake muffin.
7. Fruit and Cheese Board:
This board box is specially designed for those people who love healthy food and never compromise on their health. You can make this board more special by adding some waffles with honey on them.
The addition of some cheese in this board box is amazing and sends this box to your loved ones on Christmas as a gift. You can add more things according to your choice. I mean fruit and cheese board boxes can be customized as the customer wants. We gift wrap the platters with beautiful festive ribbons.
8. Chocolate Specials:
Chocolate is the most important flavor in every desert. Chocolate cakes, breakable heart chocolate cake, Hot chocolate bombs, chocolate cupcakes, chocolate muffins, and chocolate cookies are so popular among all people. One of my favorite chocolate desserts is molten chocolate lava cake. That is filled with chocolate syrup. 
Hot chocolate bombs come in may flavors like classic Hot chocolate bombs, peppermint Hot chocolate bombs, dark Hot chocolate bombs, white Hot chocolate bombs, mocha Hot chocolate bombs, pumpkin Hot chocolate bombs and many more.
Conclusion
Christmas is just a few weeks away. Therefore, coming up with unique and amazing ideas to celebrate Christmas with friends, family, and colleagues becomes necessary. These holiday bagels are very delicious and are deliverable in Herndon, Reston, Vienna, Sterling, Aldie, Chantilly and Oakton areas.